I'm not big on cooking, but mom-guilt creeps in when my kids have hot dogs for dinner the 5th time in week! I always include raw veggies and fruit but finding a main dish can be a challenging. Quick, easy, and as few ingredients as possible are a few of my qualifiers when finding recipes I'm willing to try out! Here are a few of my faves from the past few months!
Mini Meatloaf Muffins (via Tastes Better from Scratch) - Meatloaf was never my favorite food growing up but I've been trying to find more ways to get my picky 4 year old to eat proteins and figured I'd try out these mini meatloafs. I had him participate in making them and he tried the spices as we added them! They were a major hit at dinner and we will definitely make them again!
(Photo from Tastes Better from Scratch)
Oven Baked Chicken Bites - (via Eatwell101) - I'm a sucker for something you can make and re-purpose throughout the week, and these chicken bites are perfect for so many meals! I serve them to the kids with a crescent roll and ketchup to dip and throw them on a salad for me!
(Photo from Eatwell101)
Sloppy Joe Pinwheels - (via Living Well Spending Less) - Sloppy Joe's were another non-fave growing up but these pinwheels looked so good on Pinterest I had to try! The kids helped me make them and loved rolling them up! I left the cheese out of a few for my non-cheese eating kid and they were a 10/10!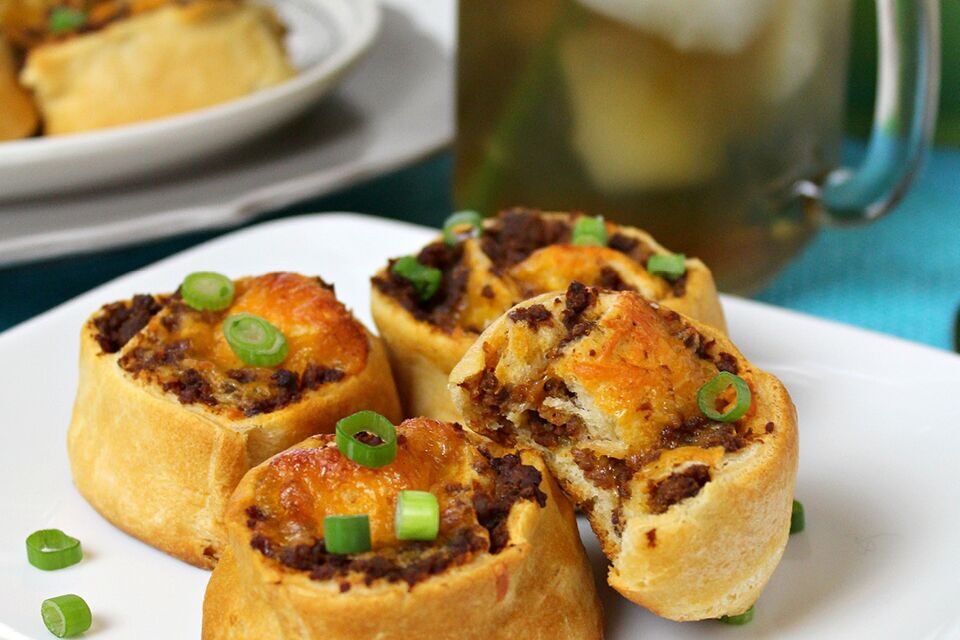 (Photo from Living Well Spending Less)
Ham & Cheese Crescents (via Six Sisters' Stuff) - Another super basic, super easy meal that is a family fave! 3 ingredients and done in under 30 minutes...a winner all around! I sometimes can sneak the cheese in for my picky eater if he doesn't see me making them, but even sans cheese they are delish!
(Photo from Six Sisters' Stuff)
Oven Baked Ranch Chicken Tenders - (via A Latte Food) I can be a little neurotic when cooking chicken (thank god for meat thermometers) so I love cooking chicken tenders since they are easier (in my opinion) to cook! My kids are ranch obsessed and love these tenders on their own or as a sandwich on a Hawaiian Roll! 
 (Photo from A Latte Food)
Check out our post on our fave Kitchen Gadgets to make meal-making more fun!