When you come home with a baby you're mentally prepared to survive on little sleep and be moderately overwhelmed, but you're not always prepared for not being able to fit into your old clothes for awhile! I'm 4 months postpartum and I'm definitely on a marathon not a sprint to getting back into shape. I'm not one of those lucky people that snaps back into shape. I gained at least 40-50 lbs during this pregnancy, I started closing my eyes when they weighed me so I'll never know the final damage. I make big babies and never limit my McDonald's so here we are! I also had a (very) emergency c-section (more to come on that later), so I've been figuring out how to best dress with that lovely c-section shelf, too. Oh the joys!! 

I think it's always important to take time to appreciate what our bodies did and acknowledge that our bodies change as we have kids and that's okay! That being said, it's not fun walking into your closet knowing nothing will fit. 
One of my best post-partum tips is to buy a small collection of items that will fit well post baby. You're already keeping a small human alive, you don't need to insult yourself trying to fit in the same things day after day that you know are too small! I've been buying things 1-3 sizes bigger than my prebaby size depending on the fit reviews for the item. These are my favorites I've found post baby #2. 
These jeans were my first post-partum larger size purchase and I love them! They're stretchy and have a great mom jean fit that isn't over the top.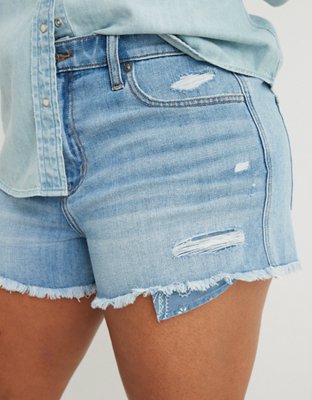 Shout out to Aerie for giving the moms what they want, ELASTIC WAISTBANDS! These jean shorts have an elastic back that gives you the extra stretch you need post-partum. I've had the worst time finding jean shorts that are comfortable on stomach and the elastic really helps!
I simply love Aerie. Their prices are great and the quality is always amazing! These Aerie leggings have been my go-to before, during, and after pregnancy. When in doubt, always go for their "OFF/LINE" line of athleisure, the fabrics are everything!! 
Shein Dresses 
I always love Shein for cheap, easy to wear items that I don't feel bad tossing after a season or two. I recently got a handful of dresses and loved them all! Flowy dresses are clutch post-partum-my one tip is to wear high waisted underwear so you still feel supported! I've linked them all below, but as you shop on Shein always make sure to read the reviews to get a good sense of quality and fit! 
Every pregnancy is a new adventure, amiright? And this time my boobs stayed bigger even after I quit nursing. Cool, but also kind of not, LOL. I put off buying new bras longer than I should have and I'm so glad I found this super comfy style on Amazon. 
Another epic mom find on Amazon was these high waisted underwear. Granny panties unite! These are so soft, high-quality, and don't roll down or ride up. YES. I've purchased them twice and will be going back for round 3. 
I've talked about RTR before, but I'm a HUGE fan. I love quality, designer pieces, but I'm too fickle/trend loving to invest in those pieces for my own closet. RTR gives you the feel of shopping and the fun of wearing designer pieces without the big investment AND you can adjust the size of rentals based on where you are in our post-partum journey. I've been using the monthly membership for years now. Use code RTRFAM510A085, which is good for 40% off the first two months of RTR's 8 or 16 Item memberships.
I just got this dress because it's on MAJOR sale and I'm obsessed with it! It's an easy, comfortable fit and is perfect for dressing up or down. I love pairing it with a fun pair of sneakers! 
More elastic waistbands, yes please!! This set from Target has been such an amazing find. The set together looks like a romper, but can be worn as separates. I get so many compliments every time I wear this! 
Happy shopping, mamas!
Kyle
This post contains affiliate links. We may receive a small commission off of purchases made with these links. Thanks for supporting us!