You know you're a mom when you have a favorite grocery store and ours is definitely Trader Joe's. Graham yells "JOES!!" every time we're headed to the store. Not only is it the easiest and friendliest shopping experience, but they also have the best finds for easy snacks and meals. Here are our faves that we grab every week:
Trader Joe's Multigrain Bread
This bread is the most delicious bread we've ever snagged from a grocery store and I'm basically a bread aficionado. The crust is covered with various seeds such as sesame seeds and and poppy seeds. I'm dying to try this Grilled Cheese recipe using this bread--the grilled cheese is another one of my specialties.  
Everything But the Bagel Dip and Seasoning 
 But the Bagel is basically TJ's claim to fame, in my mind, at least. You can find their Everything But the Bagel Dip in the refrigerated section. We always grab this yummy dip to have on hand every week. It's great for a pretty healthy snack with pretzels and is also perfect for tossing out if you have unexpected guests. This has super simple ingredients, but lacks nothing in flavor!
The seasoning is a clutch addition to your spice drawer. It's perfect for tossing on avocado toast or chicken strips to bake in the oven for healthier chicken fingers. 
Trader Joe's Butternut Squash Zig Zags
These are my favorite go-to for a healthy side for lunch or dinner. These zig zags are just pieces of butternut squash crinkle cut to look like fries so they trick me and Graham into thinking we're having french fries! They're great steamed in the microwave, fried in the air fryer, or baked in the oven. Toss oil and the Everything But the Bagel seasoning on these if you're feeling wild! 
Trader Joe's Chocolate Covered Marshmallows
I keep these one hand for when I need a little sweet snack at the end of the day and to bribe Graham, obvi. I always consider dark chocolate to be a win in the world of sweets and these are only 120 calories for three pieces!
I also love having these on hand for when I make charcuterie boards. Charcuterie boards always look better when you toss in a few non-cheese items like these diddies! 
Trader Joe's Sweet Potato Gnocchi
The frozen aisle at Trader Joe's is a goldmine. We are obsessed with this Sweet Potato Gnocchi. We simply follow the directions on the bag (it thickens up with a delicious sauce!) and then add arugula, cherry tomatoes, and TJ's spicy chicken sausage. This meal takes under 30 minutes and is a winner!
Trader Joe's Brie Pizza
This easy oven pizza is beyond delicious and is the PERFECT frozen item to have on hand for that impromptu wine night with the girls. Toss it onto a pretty platter and you'll look like the hostess with the mostest. 
Trader Joe's Chunky Chocolate Chip Cookie Dough
I have to give my husband, Johnny, credit for finding these. They are a perfect dupe for Mrs. Field's chocolate chip cookies. Yum, yum, yum. Another easy treat to stick in the oven when you have company coming over or to welcome a new friend to the neighborhood. 
Trader Joe's Micellar Cleanser and Make-Up Wipes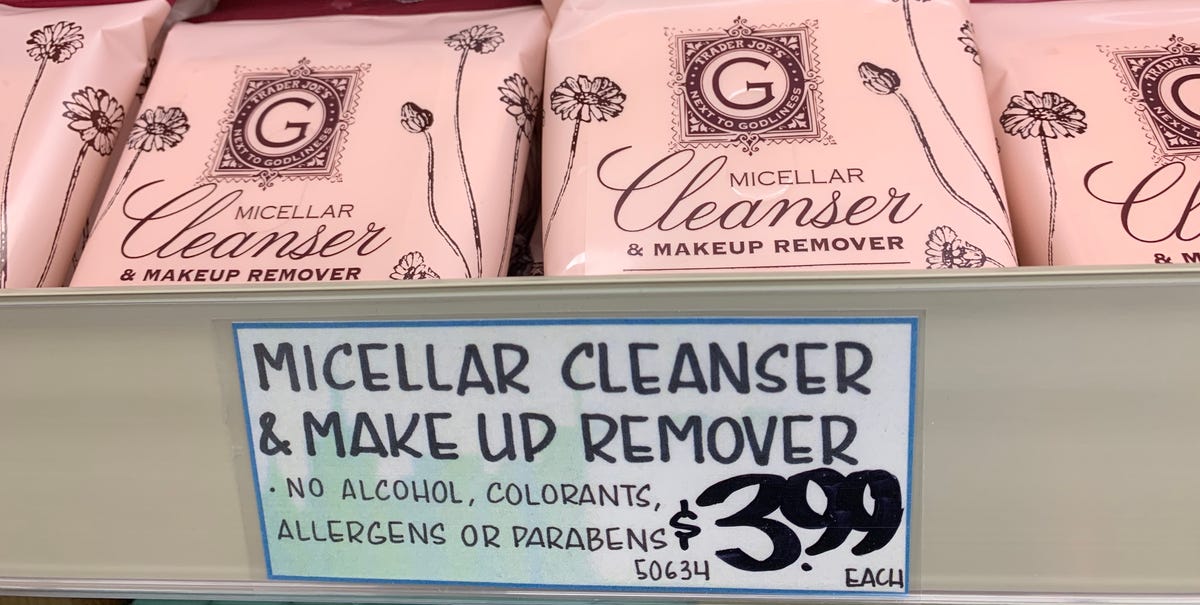 Trader Joe's is also a great place to snag beauty products. Random? Yes. Amazing? Also yes. I personally love their micellar wipes for cleaning my face each night. These are a great price and leave your skin feeling hydrated. I also keep their cucumber + citrus wipes on hand for when I need a fresh start to the day. Their face lotion and rose oil also have a cult following--their definitely on my list to try next!